For the last few months, my feelings about marriage were conflicting. Wait, let me say that better. My feelings about my sudden newfound ability to get married were conflicting. I had only been in relationships with women for about nine years before Jake came along (and yes, I realize I haven't updated in almost a year – A LOT HAS CHANGED). I always thought that if I were to get married, it would be to a woman I love. Therefore, marriage wasn't something we could have without a fight. When Jake asked me to marry him back in April, there wasn't a doubt in my mind that I wanted to, but it came with a feeling in the pit of my stomach that I slowly began to recognize as guilt. All of a sudden, I had a right that I hadn't had for a long time, simply because I was with a man. I hated how easy it had suddenly all become. There was (and still is) a lot of identity struggles over my now seemingly hetero-looking relationship, but this is what brought me the most guilt. But just because I now found myself with the law on my side didn't mean I would stop trying to change that law. And when Jake and I started planning our wedding, we immediately started incorporating LGBT-support into it – we found equal rights stickers to put on tables, rainbow ribbons for guests to wear, and we were going to put out tip jars to nonprofits working to improve the rights of queer couples. We are still planning on doing as much as we can, but there's a huge difference now.
Love won. Love won and now every couple can walk through those doors and marry the partner of their choosing, regardless of gender. I woke up to texts and emails and just lay in bed sobbing because I didn't believe this would happen. I'd grown cynical over the years and didn't actually think it would happen. But it did. Nothing will change in regard to the support we will show at our wedding, but the knowledge that love has won this day will make our day that much more special. I may not be in a same-sex relationship anymore and maybe some think this should no longer matter to me like it did before, but it does. In a way, it matters to me even more now because in no way was my last relationship of six years with my girlfriend (and domestic partner) less legit than my relationship with my fiancé now. I remember being with my girlfriend and crying over how unfair it was. And when Jake and I started planning out our wedding, it hurt over how easy everything was – how unjust that we could just do this because we LOOKED like a straight couple. I love him with all my heart but it wasn't fair that suddenly I could have this just because he's a man. It made me angry – angrier than I had ever been about marriage before. It wasn't fair. I'm still as queer as I was before I met him and I vowed to never give up on this fight.
And now we won. The battle has been won. The fight is far from over, but today, love won out. And this right to get married and be recognized is shared by all couples. My heart is so full this morning. I don't think I can adequately explain all the feelings I have inside but today I feel whole. I should not have doubted. I am so glad that the Supreme Court proved me wrong and that there is more good in the world and in our justice system than I gave them credit for. It is a good reminder.

Today love won. Love is genderless and fluid and beautiful and now it is recognized. I think today I am going to spend some time working on our wedding site in celebration. Rainbows and glitter and unicorns for everyone!!
Today I got a call from my friend Connor Cochran, owner of Conlan Press and business manager of my other friend, Peter S. Beagle, with some really exciting news. Y'all know I'm a huge fan of The Last Unicorn and everything Peter's ever written, and you may also know that I'm a TLU tour volunteer and B&B for Pete and co when they visit Austin. So when Connor told me about the latest TLU news, I almost had a heart attack I was so flipping excited.
Ladies and gentlemen, the rumors are now more than just rumors – as of today, it has officially been announced that The Last Unicorn Broadway Musical is being created. A MUSICAL OF THE LAST UNICORN! Can you believe it? I'm so excited! Here are a few notes about the upcoming Tony-award winner (I have faith):
Ed Rutherford, a Chicago director, will be teaming up with Peter to write the script.
Josh Duhamel and Fergie, along with Connor and indie film producer Lauren Sands, will be producing it.
Fergie and Peter will be bringing on other songwriters to come up with the music.
There is no timeline set yet.
Peter and Connor will be on hand at New York Comic Con to discuss this stage production.
This is pretty much going to be the best musical ever.
So there you have it. A Broadway musical in the works for one of the world's most beloved fantasy stories. I get chills just thinking about it. SO EXCITED!
And don't forget – The Last Unicorn Tour is still going on. As we speak, Peter and Connor and co are in my homestate Wisconsin, meeting friends and fans and having a great time. I wish I could be there with them, but I'm holding down the fort until they come back to Texas (April!). If you get a chance and you're on the route, go and meet them and see The Last Unicorn in theaters. It's an amazing experience.
"The true secret in being a hero lies in knowing the order of things. The swineherd cannot already be wed to the princess when he embarks on his adventures, nor can the boy knock on the witch's door when she is already away on vacation. The wicked uncle cannot be found out and foiled before he does something wicked. Things must happen when it is time for them to happen. Quests may not simply be abandoned; prophecies may not be left to rot like unpicked fruit; unicorns may go unrescued for a very long time, but not forever. The happy ending cannot come in the middle of the story."
― Peter S. Beagle, The Last Unicorn
You can keep up to date with all things Peter S. Beagle and The Last Unicorn by joining the newsletters at Conlan Press, and following on Facebook, Twitter, and Tumblr.
Of course it's one of my favorite holidays ever. So in honor of today, I am watching my favorite movie pirate (Long John Silver) in my favorite pirate movie ever (Muppets Treasure Island). And forcing my cats to walk the kitty plank into the bathtub – they do not find my humor amusing.
"Hey ho ho
It's one for all for one
And we'll share and share alike with you and love you like a son
We're gentlemen of forune and that's what we're proud to be
And when your a professional pirate
You'll be honest brave and free
The soul of decency
You'll be loyal and fair and on the square
And most importantly
When you're a professional pirate
You're always in the best of company!"
– Muppets Treasure Island
My favorite real life pirate? I have a soft spot for Henry Morgan (you have to admire a pirate that actually makes it retirement), but of course my favorites are Anne Bonny and Mary Read. Honestly, did you think I'd have any other answer? They were the badass sirens of the sea. And Calico Jack was a pansy.
Happy International Talk Like a Pirate Day!
There is a tag going around and I've seen it both here on Facebook and on Twitter in different variations but its ultimate goal is the same. Too many people do not understand depression. Too many people feel that they have not been exposed to depression and therefore it does not affect them. The problem is simple – depression isn't something we talk about. It is the very nature of this disease to keep silent, to hide, to keep to ourselves, to close the curtains and withdraw into the dark and lose ourselves to the black comfort of sleep. Talking about depression brings on doubt, ridicule, disbelief. A shake of the head, a laugh, as people don't take you seriously, don't understand you – they don't know what it's like to look into that bleak, welcoming, hole that is depression and to fall into it and stop caring. To stop living. They don't know. And they don't care to know. So we keep silent.
"No matter what anybody tells you, words and ideas can change the world." – Robin Williams, Dead Poets Society
But the death of Robin Williams – something I have yet been able to get myself to talk about or acknowledge – has sparked a sudden social media storm of people suddenly willing to fight to be seen and heard. In his last act of making us better people, Robin Williams has given us the ability to speak. To raise our voices and to say that he is not alone. That we are not alone. People have taken to Facebook and Twitter with the hashtags #depression, #depressionlies, #thisiswhatdepressionlookslike, #depressionkills, #depressionawareness all with the intent to bring light to this disease. To show those people who believe they are unaffected by depression that at some point in their life – they have been. They have friends, family, lovers, who are quietly suffering – loved ones who have never spoken up. Until now.
Yesterday I said, quietly, "It's always the happiest ones who hide the darkest feelings." A friend laughed and jokingly said, "Does that mean we have to worry about you?"
It made me realize that there are a lot of people who have no idea how much I've fought against it. How much I still fight, despite my ability to find amusement in anything. Yes, I am quick to laugh. Yes, I love to make people smile and I love being the picture of ridiculous silliness. And while that IS me, there's also more than what you see. So I'm stepping outside of my comfort zone and sharing with you a little story. The picture below was taken of me in 2008. I look pretty happy right? Well I was. At least at that moment.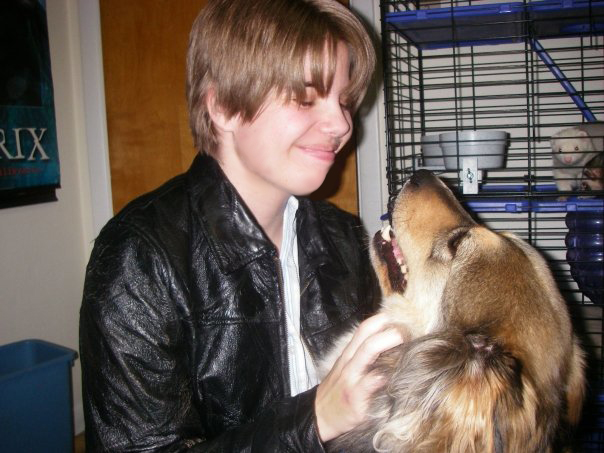 The moment captured in this photo is a hard one for me to talk about. In fact it's been really hard to write this through tears as I remember this day and the ones surrounding it. It was the first day I was allowed to leave the behavioral unit at the hospital. In fact, it was the first day I had left the hospital entirely after trying to kill myself. I had locked my dorm room and taken an entire bottle of prescription pills and waited to die. I very nearly succeeded and while I don't remember anything leading up to the ambulance ride to the hospital, I do remember being in the hospital and the pain and sickness that came with recovering. I remember being angry because I had failed. I remember being devastated that now I had to see the faces of the people who knew what I had tried to do. Most of all I remember the regret that I was still alive.
Even after I recovered from the physical pains, they kept me in the rehab unit in a separate building for awhile while I tried to get over the emotional pains. I kept a journal while I was there and it's really hard for me to even look at it now, though I've kept it with me through the years as a reminder. After the hospital and rehab center, came the local behavioral house where I also started therapy before moving back on campus and seeing a counselor, a therapist, and a psychiatrist all at once. I withdrew from that semester at college and holed myself up into my own little world, trying desperately to claw my way out of the pit I had dug for myself.
That picture was the first time I got to go home. I was allowed only an hour off site from the hospital unit I was confined to. The first thing I did was visit my dog. That's Spunky greeting me in that picture. I AM happy. I am happy because I honestly thought I had said my final good-bye to him and I was surprised by how relieved I felt to see him again. How glad I was to feel his tongue on my face because he was so happy to see me he couldn't contain himself. And it felt good to be loved so much. This picture shows the first time I felt regret for what I tried to do, and the relief that I was still alive.
It was a really long road to recovery. And to be honest. I'm still not recovered. In fact, a little over two years later, I tried to kill myself again and landed once again in the hospital. Depression isn't something that can be fixed with a few pills and a bunch of happy memes (though they can help). It's a constant battle. It's a fight to live. It's a fight to wake up in the morning and breathe and it's a fight to find happiness in the world when so many things seem so bad. When you're in that mindset, in that downward spiral of feeling worthless, useless, dead – it's hard to get out and remind yourself that depression does lie. It LIES. It is a battle. But, and this might sound cheesy and cliche, it DOES get better. The more you fight, the more you start really living and stepping outside your routine of just going through the motions, the more you open your eyes, the more good days you will actually have. The more light there will be on the other side of that dark tunnel.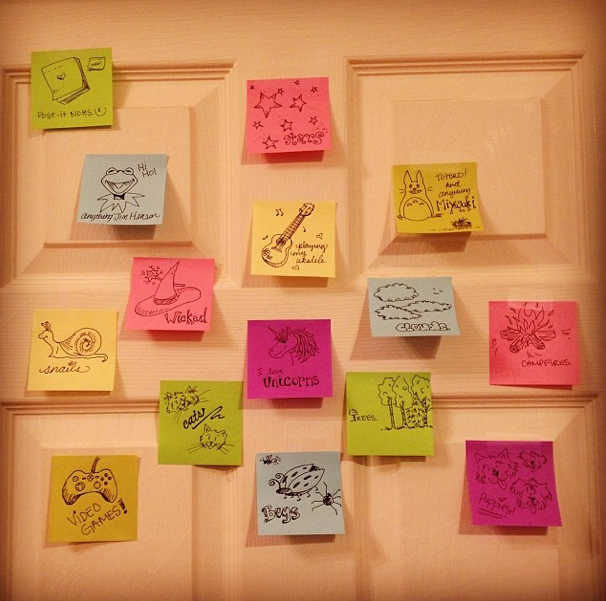 Maybe I'm a hypocrite – I still fight every day. I try to do small things to keep me going. I call the door to my bedroom my "Happy Door" – every time I'm sad, I doodle a picture on a post-it note of something that makes me happy and I put it on that door. It's now covered in small, colorful pieces of paper and it makes me happy every time I look at it. I made a playlist with nothing but happy songs that I make myself listen to when I feel down. When I'm dangerously close to horrible thoughts, I make plans with my friends so I'm not alone. I play the ukulele. I beat up villains in video games. I draw. I go to the dog park even though I no longer have a dog. I try to put myself into happy situations as much as I can because I know that I can't do this alone. I can't fight it when I'm by myself, with the covers over my head.
Taking that first step is the hardest part. Taking action is against everything your depression tells you to do. But depression lies. When it says you can't do something, tell yourself YOU CAN. When it says you aren't good enough, tell yourself YOU ARE. When it tells you that you will never be happy again, tell yourself YOU WILL BE. I am fighting too. I am with you. You are not alone. I am not alone. WE are not alone. THAT is why it is so important to speak up. To use this time when the world seems to be suddenly sitting up and listening to act and to say that this disease, this horrible horrible disease that kills so many people, needs to be acknowledged and that EVERYONE has in some way or form been touched by it. Don't ignore it. Don't sweep it under the rug. Don't roll your eyes when someone tells you they're depressed and need help. Reach out your hand and take theirs and tell them you will do everything you can to help them. Even if you don't understand it. Just tell them you're there for them. Because sometimes, that's all we want. To not feel alone.
We are living, breathing beings made of stardust and particles of forgotten galaxies. We are here for a purpose and in this short blink of a lifespan, we are given the opportunity to change the world. We are given the ability to make others smile and laugh and cry and live and we owe it to ourselves to sing and dance and LIVE. I am telling you this as much as I am telling myself. Because I am still fighting this every single day. But it's worth it. Because you matter. I matter. This life we are living matters, to every single person around us.
"All things by immortal power,
Near or far,
Hiddenly
To each other linked are,
That thou canst not stir a flower
Without troubling of a star…" – Francis Thompson
Nobody is untouched by depression. We are all connected. So this is my story and I'm sharing it with you all in order to bring awareness to those who think they are untouchable. And to hopefully help those too afraid to share their stories – who are too afraid to believe that they are not alone. You're not. I'm here. We are here. We are in this together.
Please keep fighting. You can do it. I believe in you.
So it has recently come to my attention that there's an anti-feminist Tumblr out there solely dedicated to pictures of women holding up signs about why they don't need feminism. At first, this made me become SHE-HULK AND SHE-HULK SMASH THINGS. Thankfully it's rare when I let things on the internet make me this angry. But after awhile, my anger subsided and instead it was replaced with sadness. Hurt. Heartbreak. I want to hug each of these lost women and hand them a copy of The Feminine Mystique and enlighten them. But I suppose, in the end, that's what feminism is attempting to do. Not just reform the "equality" of men and women. But also to educate. We just need to keep trying. Anyway, I took to Facebook to voice my thoughts and I figured I'd share them here as well.
"There is a special place in hell for women who do not help other women."
– Madeleine K. Albright.
I actually debated on whether or not I wanted to share this. Normally, when I read something that makes me this angry, I don't share it because I try to keep this place as positive as I can. But this. THIS. I'm making an exception because this is important. These women think that they are above feminism. That they don't need it because they aren't victims. Because they don't want to devalue men. GIRLS! YOU ARE DEVALUING YOURSELVES. How do you think the rights of women got as far as it has? Right now, you are using your voices, posting pictures of yourselves online, acting as strong women with opinions – BECAUSE OF FEMINISM. Because women continue to fight for our – FOR YOUR – rights. Feminism isn't about playing the victim. It's not about victimizing women AT ALL. It's the damn opposite of that. And it's certainly not about devaluing men – it's about being treated as equals. It's about getting paid as much, it's about being able to have our say on an equal platform, it's about owning our own bodies and being proud to have a voice. Which you have because of the feminists fighting for you.

print by dothandmade
Your ignorance isn't just shameful, it's hurtful and detrimental to women everywhere. It's a slap in the face to women in other countries who don't have your rights – who are forced to succumb to the will of a man every day in more ways than one simply because they are seen as inferior. Those women are not allowed to speak up. You can and you do. You're showing that right now. But your message is extremely misguided. Just because we are lucky enough to have been born into a country where women have as much power as we do, does not mean that our job is done. Women are still paid less than men in the work place simply because of our gender. The opinions of women in many male-dominated industries are not taken into consideration… simply because of what's (not) between our legs. Even in our society, women are still not seen as equals by the government. But we could be. If we keep fighting. If we keep working for a better world. If we continue to educate others and welcome people – women and men and every variation – into the fold of feminism. Don't shut it out. It's why you're able to do what you're doing now.
This tumblr and these girls are doing far more damage to the cause than they realize. And their ignorance is so… heartbreaking. They have no idea. Their eyes are closed. And that is why feminism will continue to be needed for a long time.
Anyway. There's my two cents. I'm going to go watch some kick-ass feminist Sailor Moon because I can.