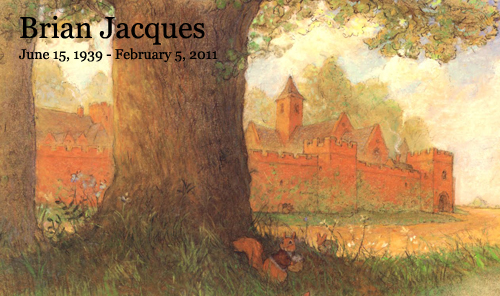 When I was in sixth grade, my cousin introduced me to a book series that changed my life. Walking into the library of Phoenix Middle School, I would make a beeline to the bookshelves that lined the wall on the left. Second bookshelf in, second shelf down. I was more familiar with this area than any other and I'm pretty sure I checked those books out more than anyone else.
Redwall by Brian Jacques. The first website I ever created housed my Redwall fanfiction and fanart. I had a page of Redwall quotes and book reviews. That artwork and that "Redwall Story" I wrote were the first things I ever posted online. The first forum I ever took part in was in the ROC (Redwall Online Community) and the very first character I ever RP'd was Mara Treeflyer – a squirrel maiden that lived within the walls of Redwall Abbey.
While the site and fanart and fanfiction dwindled after I went to college, I never stopped reading every book Brian Jacques came out with. The Sable Queen came out last year and I haven't had a chance to read it yet, but I've stayed up to date with his books since 1997. There is nothing better than curling up with a big blanket, and a dog, and a Redwall book on a rainy afternoon and losing myself to the stories of Martin the Warrior and Constance the Badger and the great hares of Salamandastron.
So when I heard the news yesterday, that one of greatest and most inspirational children's author that ever walked this earth had passed away, I was dumbfounded. Of any author (other than, perhaps, Tolkien), he has made the biggest impact on my life. That first story, that first artwork, the very first WEBSITE (!) I ever showed anyone other than my family were all based on Redwall. My best friend? I met because of a forum where I posted Redwall-inspired artwork. I most likely wouldn't be where I am now, a writer and illustrator and web designer, if I hadn't read the Redwall series and been inspired to take part in the ROC.
I won't lie. When I heard the news I cried. I felt like a dear, old friend had passed away. His voice lulled me to sleep many times while I listened to my Redwall tapes. No on in the world could speak Mole speech like he could. I remember road trips with my dad while we both listened to the story of Cluny the Scourage. When I was in high school, I took home my first First Place Ribbon in 4N6 with a fun reading of Cluny and Basil Stag Hare. Redwall is entwined in my life.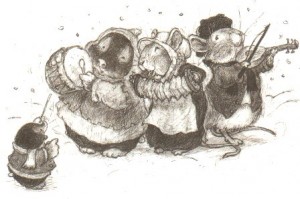 Brian Jacques, thank you for every word you ever wrote down. Thank you for Cornflower and Jess Squirrel and Gonff. Thank you for Samkin, Triss, Basil and Constance. Thank you for Salamandastron and Mossflower and Loamhedge and, most importantly, for Redwall Abbey, where all the stories are told. And thank you for Benn and Denmark, too. I wish there had been more stories about those two. Thank you for introducing me to some amazing friends who have changed my life and who have made me a better artist and writer. Thank you for the amazing life you shared with us.
"Don't be ashamed to weep; 'tis right to grieve. Tears are only water, and flowers, trees, and fruit cannot grow without water. But there must be sunlight also. A wounded heart will heal in time, and when it does, the memory and love of our lost ones is sealed inside to comfort us."
Eulalia.
Images from my favorite Redwall illustrator Christopher Denise.
I know it's been awhile, but life has been pretty much insane. So much so I'm not quite sure I can call it a life. Doesn't life include sleep? Don't think I haven't been blogging. I blog every single day but it hasn't been here. Over at I Love Rescue Animals, Ash and I have taken on an epic year-long challenge: to showcase a different rescue, shelter, or other animal welfare organization every single day this year. It's called the 365 Days of Animal Advocacy project and if we're not blogging or taking pictures, we're emailing organizations and spreading the word pretty much every second of the day (when we're not at work).
Regardless of how time consuming it is, the project has already proved incredibly worth it. We have already gotten in touch with some fantastic organizations and the amount of positive feedback we've gotten has been wonderful. Want to know more about it? Check out the last five posts we've done:
Please take a moment to read more and find out how you can help this project. We would love to hear from your local shelter and share your story. And don't worry – I'm getting back into the blogging habit and I'll be back here soon.
BREAK! I shall be scarce from the web this week as I prepare for BlogPaws 2010 West, a conference that has all to do with pet bloggers and celebrating the love for our furry friends. This is the second conference and this time I will doing a presentation about some tips and tricks for basic WordPress design. I'll make sure to make it available after the conference. Ash and I are representing I Love Rescue Animals and will be gone from Thursday to Sunday to beautiful Denver, CO. Until then, we'll be running around trying to get everything done and prepared in time for us to make our flight. We'll get back on the normal blogging schedule on Monday. Be well, all!
Updated 9/16/10: We made it back from Colorado safe and sound, but the BlogPaws buzz has not died (and I have not had a chance to catch up on blogging here). I will write about it here next week after my life gets back to normal (and I catch up on emails and projects), but for now, please head over to the I Love Rescue Animals blog and read about our journey and all the people we met. It was incredible. Thank you to all who support our group and our mission!
You may remember this post we wrote up earlier about asking people to nominate ILRA for DogTime's Petties Awards. Well we asked and you came forth and did it! I Love Rescue Animals is now one of the four finalists for Best Cause Related Blog! Thank you so much to everyone who entered our names. Just making it to the final four has blown us away. You are all amazing.
Vote Again!
But it's not over! Now that we're in the final four, how about trying to get us to #1? I know we here at ILRA would be absolutely estatic if we managed to take the top spot, and we feel that with your support, we have a good chance.
So please take a moment to vote for iloverescueanimals.org in the "Best Cause Related Blog category. If you support what we do and what we stand for, this is a great way to show how much you appreciate it. With a few clicks, you have helped us take one step forward to getting our message to a bigger audience.
Thank you so much for getting us this far! Feel free to share this with friends and family. We could use all the support we can get it. Voting ends on August 20th so please get your votes in!
If you haven't noticed, I Love Rescue Animals is bursting with brand new content in our blog. Not only do we try and have a blog a day up now, but we've also got four, count them – FOUR, different series going on that I wanted to take a minute and showcase here. AND we've welcome on a new member of the team! How awesome is that? Check out what we've been up to!