In honor of the raging storm outside my window and the fact that I started reading A Wrinkle in Time tonight (for the hundredth time), here are some amazing photos (and some photo manips) of gorgeous lightning and thunderclouds by the talented Mathieu Degrotte.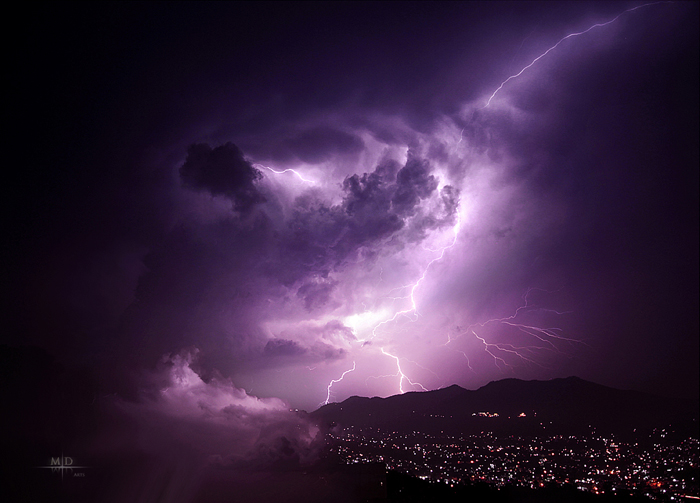 "Wild nights are my glory," Mrs Whatsit said. "I just got caught in a down draft and blown off course." – Madeleine L'Engle, A Wrinkle in Time
I just love the colors on these. Gorgeous work. Check out more of his artwork (he is also a talented artist) and photography on his deviantart page. You can also find him on Facebook and Tumblr.
I was kind of a hermit in high school. If I wasn't in class, I was in the art room. I never used my locker – all my stuff I stored in the art room. It was where I ate my breakfast and lunch, and spent much of my after-school activities of doing homework and throwing paint on canvas in that room. So the majority of friends I had were also people who frequented the art room. Hank Butitta was one of them. Senior year we were the only two in AP Art who finished our portfolios and sent them off – him for architecture and me for painting (painting trees to be more specific). Thankfully, one of us continued to use the skills they learned in school (hint: not me).
The Kid Who Bought a Bus
If you've been following me recently on Twitter, you'll have seen me post a bit about Hank and his incredible journey. Hank bought a bus and ever since then, the world can't seem to stop talking about him. In a spontaneous decision, Hank bought an old school bus off Craigslist and renovated the entire thing for his Masters Final Project. (This isn't the first time Hank has taken a large vehicle for a joy ride. Senior year, Hank, our friends Kadi and Andrea, and I were tasked with bringing artwork over to the public library during school hours. We did it – but then took the van for a spin around town and down to the Arboretum and climbed trees – you can tell he hasn't changed much.)
A Designer's Dream Interior
The end product of Hank's hard work is this absolutely gorgeous, minimalistic tiny home on wheels. The interior is every designer's dream-come-true. The clean lines, the wood paneling, the bright natural sunlight. This is what I want to emulate in my future house. Hell. I want to just own this bus.
Hank didn't just do it as a final project. He's hoping that his bus and the road trip will promote the idea of living a minimalistic lifestyle. In his own words: "I hope this experience can help expand the dialogue about tiny living spaces and their viability. The bus prompts lots of interesting questions that could (and have) led to hours of discussion, which is truly the point. Our definition of home is so narrow, and our image of a mobile home is even more limited (and generally looked down upon). I think the tiny house movement is terribly interesting, if not entirely viable as a large scale solution. It helps remind those of us who have grown up in a traditional home that we could get by with less. A lot less. 200sqft is small, but I know people who have lived in apartments that are smaller. I want people to see the bus, be shocked at how comfortable, functional, and affordable it is, and maybe reassess what they're willing to consider a viable home."
Adventure Bound!
Hank is the kind of person who can be completely quiet, working intently, and out of nowhere, with the most serious expression on his face, say something ridiculously funny that leaves you in stitches, unable to remember what paint color you were trying to mix. We once staged a paint fight in an empty hallway in our high school for our friend Laura's photography project – I dumped an entire can of purple paint over Hank's head and the walls of that hallway I'm sure still to this day show signs of the fight. It took weeks before I got the orange paint out of my ear. I can just imagine the hysterical conversations and happenings going on on that bus. I don't know about you, but I would LOVE to see it all in person.
Come to Austin, Hank and Co! We have beer and live music and all the breakfast tacos you can eat!
All the photos you see are from the talented Justin Evidon, Hank's co-pilot on this adventure. You can find out more specifics about the bus on their Tour of the Bus page. Find them on Twitter and Facebook too!
Y'all know that I'm a big treehugger. I pretty much majored in camping. I'm also a big fan of DIY craft projects. So it should come as no surprise to anyone that I am absolutely 100% in love with this awesome Kickstarter project: Create Change App: Changing the Way We Consume + Create. It comes from the minds of my friend Jenelle of TrashN2Tees and software developer Sean McKenna, two ingenius minds with an amazing idea.
Of course I have to help promote something that I know for a fact that I would use the heck out of. Jenelle was gracious enough to take a few moments to answer some questions for me about the Kickstarter project and the fantastic app that needs to be made.
Kickstarting the Interview!
Tell us what inspired you and gave you the idea for the Create Change kickstarter project.
My whole life, I've always looked at things & automatically wondered how I can contribute and make a difference. How can this be bigger, better, amplified, successful, brighter, stronger, happier, worthier? For a long time I truely viewed this trait as a character flaw. I'd catch myself asking questions like, "who do I think you are?" The truth is, this 'flaw' has always been one of my greatest strengths & assets. One that I am embracing.
The Create Change App is a manifestation of my business TrashN2Tees where I design clothing & accessories using reclaimed materials. Its focuses on ways that you can creatively reuse items and keep them from our landfills, instigating a movement that changes the way we consume and create.
Give us a quick run-down of how the app will work for those who haven't seen the video.
If you've got 3 minutes- be sure to check out the video here. Did you know that 70% of the items in our landfills can be recycled or reused? The app is going to be a compilation of DIY tutorials on a searchable database. Simply search the Create Change app for your no-longer-necessary items (for example: bottle caps, bike tires, ripped shower curtain, and dryer lint), you will instantly see results featuring creative ways how you can repurpose the items instead of throwing them away. The Create Change tutorials will walk you through the steps.
Browse the beautifully photographed galleries by choosing a category on on the home page and be inspired to create change. These tutorials are original (and eventually curated) content. You can instantly share photos of your finished projects: show us how you infused your own personality! Post your favorite tutorials directly from your phone on Twitter & Facebook. Submit your own tutorials to possibly be featured in the curated updates! All of the budget friendly projects range from stylish modern industrial chic home decor builds to quick & easy kid-friendly crafts!
What's your favorite part of this whole project? The marketing? The creating? The brainstorming?
I was going to cop-out and say I loved it all, but sat with the question a moment. I love the collaborative brainstorming being able to exemplify my vision through unexpected creative mediums.
What do you hope the Create Change app will accomplish? Big Hairy Audacious Dreams here!
Big scary things happen in the world everyday, and a lot of us think there is nothing we can do about it. That is bullshit, we can DO something. I want people to really look in their trash cans & think about what they're consuming. Think about how it affects our environment and realize that it doesn't disappear after the garbage trucks come pick up. The app instigates action: a movement to change the way we consume and create.
Any big projects after the Create Change app is a big success?
There is still a lot of work to be done, I'm currently looking for an intern to assist with organizing the Create Change Pledge Event in November. (Send applications to contact(at)trashn2tees.com) We're going to be spreading Create Change with live events in your town: including hands on upcycling/creative workshops, live music, and eco-handmade vendors.
Conclusion
Conclusion? FUND THIS KICKSTARTER! Don't you want to have this app on your phone? Right now, Jenelle has a little over $1300 and she needs to reach $17,000 in 15 DAYS! You can check out the video to learn more about where the money will go and how the app will be created. All I know is that this is an app that NEEDS to be made. How wonderful will it be to go to your phone to find a use for something you might have otherwise thrown away?
I for one have helped fund this Kickstarter. Will you?
Yes, I said it. It's my birthday on the 19th and to celebrate, I am joining up with PrintRunner to do an awesome business card giveaway! Because I'm super nice and believe in the Hobbit tradition of giving away presents on my birthday. To one lucky winner anyway.
But first, I have a request for you. I would LOVE it if you could donate to an organization that is near and dear to my heart. No, it's not required to enter the giveaway – it's just something nice you could do for me on my 26th year of life (and for them).
My Birthday Nonprofit: Amazon CARES
This is a personal plea from me. Amazon Community Animal Rescue, Education & Safety (CARES) is a nonprofit organization that was founded by my good friend Molly Mednikow. This is a one-of-a-kind organization that operates in Iquitos, Peru, that offers animal rescue, spay and neuter services and education to the Amazon community, runs a no-kill shelter, and is the only charity dedicated to animals in the entire Peruvian Amazon region. The amount of good this small organization does for a very large area is astronomical.
Unfortunately, earlier this year, the Amazon was hit with a tremendous amount of flooding that devastated the organization – the shelter they had spent years building was destroyed. Molly and her trusted troupe of staff and volunteers carry on the work they have dedicated their lives to, but they struggle as not enough funding goes to rebuilding and less goes to the animals. They need your help.
For my birthday, I want everyone who reads this to donate $5 or more to the Amazon CARES ChipIn and help them raise the money to rebuild their organization and help give relief to the animals of the region. You can donate and see updates at this page, or you can donate via the ChipIn widget below.
Thank you. From the bottom of my heart. It would be the best present ever to see Molly and Amazon CARES continue the good work they do.
Edit: Molly just put this post up and it breaks my heart. If you were thinking about donating, now is the time! They could use all the help they can get right now! Let's do this!
And Now… The PrintRunner Giveaway!
I haven't done a giveaway in awhile, so I was totally excited when PrintRunner asked if I wanted to take part in theirs (and get my own cards too). I was also super stoked when I discovered the green aspect of the company – they've adopted some pretty stellar eco-friendly printing practices, which y'all should know is important to me. You can try PrintRunner's online business cards printing through their online printing services.
Giveaway Details
Business Card Size and Style Business Cards: 2×3.5 (Standard)
Quantity: 250 cards
Colors: 4/4 Color Both Sides
Paper: 14 pt. UV Coating on Front, 14 pt. UV Coating on both sides,
Proof: NONE
Rounded Corners: NO
Ready To Ship In: 3 Business Days
Awards: May 31st, 2012
*Giveaway is open to US Residents only, ages 18 years old and above.
Deadline
This giveaway is open NOW and will close on my birthday, May 19th (at 11:59PM CST). What do you need to do to win? Comment on this post and, just for fun, tell me what your favorite charity or cause is. I would love to see what you guys care about. Don't forget to follow PrintRunner on Twitter and Facebook – they're pretty great. I'll pick a winner on Sunday via the Random.org generator.
Hope you're all having a wonderful May and happy Giveaway!
When I was still in college, I spent four months of my senior year living at the Audubon Center for the Northwoods in Sandstone, Minnesota. It was one of the most wonderful times of my life and I learned more in those four months than I did during my entire four years of college. This was thanks to, primarily, the incredible and motivating teachings of Mike Link and his wife Kate Crowley.
Which brings me to the reason for this post.
The Full Length Mississippi Kickstarter Project
Last year, Mike and Kate took on Lake Superior, walking around the entire freshwater resource, educating and creating awareness for their beloved great lake. Next year, the pair want to bike up and down the entire length of the nation's largest river system. Their adventure has sparked the creation of the Full Length Mississippi Kickstarter Project.
In less than 48 hours, the Full Length Mississippi Kickstarter project will end and they still need about $500 to reach their goal. This is an all or nothing campaign – if they don't meet that goal, they get nothing.
I am reaching out to all of you to please donate even just a little big. This endeavor can't happen without you. Mike and Kate aim to raise awareness and educate the public about the health of our natures freshwater ways. They will bike the river and use their knowledge to create educational programs for schools and organizations and share what they discover along the way both in person and online. It's an incredible journey and you can take part and help make this happen.
Support The Mississippi River!
Please support this project. I owe Mike and Kate a lot – they are inspiring people and have taught me so much. Help me help them by donating to this cause. Please support Full Length Mississippi!
Update 4.19.12, 8:12 CST: We did it! Thanks to you amazing people, Mike and Kate reached their Kickstarter goal with 22 hours to spare! You all rock! THANK YOU!