Growing up, I loved comic books.
Yeah, who am I kidding? I never grew up, and I still love comic books. Graphic novels. Writings with pictures. The works. It started with X-Men and Archie, became an obsession with Neil Gaiman's Sandman, and culminated into a fascination with how art evolved in comics throughout the years. I love learning about comic histories and back stories of superheroes. Really, I just love comic book heroes in general, so I thought I'd share with you a few of my favorites.
The Comic Book Heroes!
Storm (Marvel)
Best Known From: X-Men


Ororo Iqadi T'Challa, the daughter of a Kenyan Princess and an African photojournalist, was a promising thief in Cairo when she met Professor X of the X-Men. He saw within her great potential and took her under his wing. With the X-Men, she became one of its leaders and the beautifully dangerous Storm was born.
Beast Boy (DC Comics)
Best Known From: Teen Titans


Garfield Mark "Gar" Logan had the unfortunate mishap of being bitten by a green monkey when he was a boy, and due to the medicine given to him to save his life, his own skin turned green and his powers to shape-shift were established. Beast Boy (or Changeling as he was known as for awhile) was a part of the Doom Patrol and later the Teen Titans.
Batwoman (DC Comics)
Best Known From: Batman


Batwoman is the alter ego of Katherine "Kate" Kane and was originally the love interest of Batman in the 50s. The modern Batwoman, however, is a Jewish lesbian with several tattoos and a punk persona. Like Batman, her powers rely more on her feminine-disguised gadgets rather than any super human powers.
Abe Sapien (Dark Horse Comics)
Best Known From: Hellboy


Abraham "Abe" Sapien is an Icthyo sapien, which can best be described as a "merman." Originally a man named Langdon Everett Caul who was turned into his current appearance by an underwater deity and a misplaced ritual, was saved by Hellboy a century later from curious scientists who named him Abraham after the date that was written on the side of the tube they found him in: April 14, 1865 (the day Lincoln was shot).
Death (Vertigo)
Best Known From: The Sandman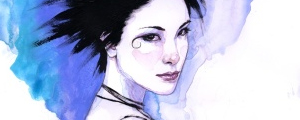 The second oldest of the family of Endless, Death is the only one not tied with limitations. She is portrayed as a young goth girl, perky, with an silver ankh around her neck. She comes to humans when they are born and when they die, and one day a century, she becomes a mortal doomed to die to better understand those she works with.
The Comic-Con Contest
In exactly ten days from today, Comic Con will take over San Diego, and in honor of this event, I have decided to hold a contest, because who doesn't love winning free stuff? Since I can't actually attend the event, I thought this would be a fun way to take part.
The Rules
01. You may comment one time on this entry.
02. Tell me who your favorite Superhero or Comic book character is and why.
03. On the first day of Comic Con (July 22rd – 12:01am) the contest will end and I will pull together all the entries and randomly pick a winner.
04. The winner will be announced here and receive an email by the last day of Comic Con (July 26th).
The Prize
The winner of the contest will receive a brand new unwrapped DVD copy of Hancock: 1-Disc Unrated Edition. Hancock is a movie about a down-and-out super hero who has kind of fallen to the wayside until a friendly publicist decides to turn things around for him. Unfortunately, neither took into account the publicist's wife. The movie features Will Smith and Charlize Theron and was directed by Peter Berg. It is rated PG-13 and is a total of 102 minutes long.
So what are you waiting for? Comment with your favorite Comic book character and enter the contest – it's free, so why not join in? Everyone loves winning.