Sometimes you come across an artist whose work just takes your breath away. That's what happened when I was introduced to the paintings of Gregory Thielker. And yes, these are paintings. Probably the most realistic oil paintings I have ever seen. The detail is just incredible.
Gregory Thielker is an artist currently located in New York City.
The road acts as a physical and philosophical guide for many of our experiences within the world. In the United States, nostalgia for landscape created and fueled by Manifest Destiny has perpetuated a desire for freedom and newness with each journey in the car. We are encouraged through automobile advertisement to believe in the transformative power of driving and motion to transport us beyond our everyday circumstances towards a better life, or at least a way to literally leave the past in the dust. ~G. Thielker
MORE PLACES TO FIND GREGORY THIELKER
Monthly treasure boxes are pretty awesome. I love them. My husband loves them. We both get our own every month. Some people get nature boxes or dog boxes or make-up boxes. I get a geek box. I love Loot Crate because every month has something I'm excited to get. I'm also a big fan of their Firefly Crate because… because Firefly. There's no other reason. It's Firefly. But I often wonder, if I could make the ideal box, what would it be?
I mean other than the Mass Effect Crate they already created.
Well, oddly enough, friends from Loot Crate wondered that same thing! What would people love to see in a Loot Crate of their own making? And I'm happy to give them an answer. I know exactly what I would want in a Nikki-themed Loot Crate: FIERCE SPACE WOMEN! Yeah. I said it. Fierce Space Women. Are you surprised? Here are a few examples of what I'd have in my Fierce Space Women Loot Crate.
Garnet Funko Pop
Garnet is my hero and my favorite of all the Crystal Gems in Steven Universe. Steven Universe has quickly become my favorite show in TV. Every theme, every story, every character has been built with love and affection and a deep understanding of human nature and kindness. And Garnet is the epitome of Love and healthy relationships and there is no equivalent in the Universe to who and what she is. I love her with every fiber of my being. She is (they are) the fiercest of all Space Warriors.
Princess Leia Socks
I think when most people think of a fierce space woman, they immediately think of Princess Leia. Or General Leia. She is incredible, strong-willed, and stubborn and doesn't take no for an answer (unless she wants it). She is and always will be Leia the Huttslayer. (A little off topic, but have you read Bloodline by Claudia Gray?? Best version of Leia to date! It was so good! Please read it!) Anyway, I freakin' love this illustration and to see it on a pair of socks?! Yes please. What a great way to ground yourself in the reminder of what a great woman can be.
Jaylah Beyond Poster
So I have a lot (A LOT) of feelings about the new Star Trek Beyond movie that I should probably make an entirely separate blog post about, but suffice to say that my FAVORITE thing about the whole movie was Jaylah. I was so in love that directly after we got out of the theater we ran over to my comic book store and I got the Jaylah funko pop (which is why I chose Garnet instead of Jaylah for that one). She is just so perfect. Independent, intelligent, loves loud beats and shouting. She's just so badass and I definitely wanted to make sure she was on this list somewhere.
Liara T'Soni T'Shirt
Like Garnet, Liara is a fierce female-esque alien from outer space who loves humans (and the whole Universe) and has dedicated her life to saving the galaxy. I have blogged many times about my love for Mass Effect it shouldn't come as a surprised that I would include someone from the game series on this list. Actually I'm totally fine if we replaced Liara with Tali because I love both so much, but this Liara shirt has been on my list for awhile so she won out. Plus that whole Shadow Broker thing is pretty fierce.
SPACE JEWELRY!
I love this necklace so much and since this is my dream crate, I'm adding it here. Cuz I can. Isn't this just beautiful? I think every fierce space woman should have some fierce space jewelry (or not if jewelry isn't your thing, that's totally cool too!). So even if my loot crate doesn't have this particular piece of finery, I'd love to see SOMETHING that represents space that I could wear. Maybe a meteorite rock or something? I don't know. Just something pretty.
Wonder Women Book
Hey, did you know that there are REAL fierce space women?? Yeah, not all of them are in movies or video games. AND THAT'S SO COOL. My awesome friend Sam Maggs wrote this book called Wonder Women that is coming out in October (but you can pre-order it now) and in this book she talks about a bunch of amazing and talented women who have changed the world, including some crazy fierce space women. I think it'd be super important to include something that will remind everyone that women really are kicking ass in space and STEM-related fields.
And there we go! Those are just a few things I would include in my dream Loot Crate box.
What would you include in yours?

I have lived in Austin, Texas for almost seven years now. Six of those years I have been going to my favorite local convention Staple: The Independent Media Expo. I love is so much that for the third year in a row, I'll be volunteering at the show. If you haven't heard of it and you'll be in town on March 5th and 6th, come join us!
What is STAPLE?
STAPLE! is a quickly growing convention located in Austin, Texas that has been bringing the best of independently produced comics, zines, art, crafts, and games and more to local fans. This year, there will be over 150+ exhibitors of comics, zines, art, crafts, games and more! There are events and workshops and live podcast recordings throughout the day and live screen-printing of the annual STAPLE t-shirt.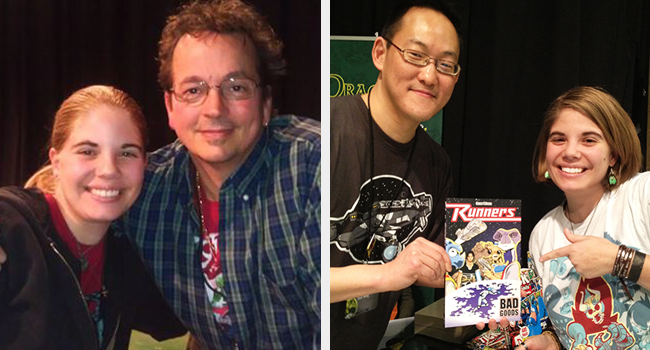 Some of my past highlights: meeting Kevin Eastman, mastermind behind Teenage Mutant Ninja Turtles, and interviewing Sean Wang, the creator of Runners. I've also met some other amazing artists like Kate Leth, E.K. Weaver, Jamie Kinosian, and so many more. Last year there was also a really stellar panel about queer diversity in the gaming industry with folks from my favorite Bioware. There is always great things happening at STAPLE! and this year is no different.
Who are the Guests this year?
There are some fantastic and talented creators coming out for this year's STAPLE! Four time Eisner Award winner Gene Ha is the artist of books like Fables, Justice League, Cyclops & Phoenix, and Oktane. Emily Carroll is probably best known for her short stories collection Through the Woods and her gorgeous illustrations. C. Spike Trotman runs Iron Circus Comics, Chicago's largest comics publisher, and puts out some pretty awesome Kickstarters. Danielle Corsetto is the creator of Girls With Slingshots and has written three Adventure Time graphic novels. These are just a few of the guests that will be showcasing at STAPLE! You can read up on who else will be there on STAPLE's Guests page.
There will also be TONS of exhibitors showing off their work. You can find the whole list on STAPLE's Exhibitors page.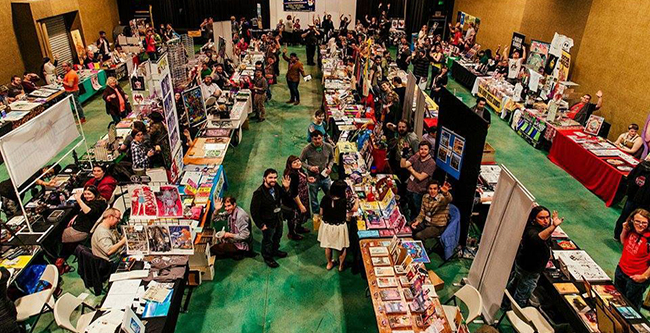 STAPLE! Details
STAPLE! The Independent Media Expo
When: March 5-6, 2016
Where: Marchesa Hall and Theater, 6226 Middle Fiskville Rd, Austin, TX
Tickets: Sold at the Door
Interested in attending? Great! Here's the scoop. On Friday (the 4th), there will be a pre-party out at Austin Books and Comics starting at 8pm. On Saturday, the expo officially opens at 11am and there will be workshops, tutorials, panels, interviews and more until they close down at 6pm. On Sunday, the show starts at 12pm and goes to 6 as well. And throughout the whole thing there are two rooms full of vendors for your to peruse to your heart's content. The complete STAPLE! schedule can be found on their site.
Tickets aren't sold online, so just head out and purchase them at the door. $10 for a day pass, $15 for both days. On Saturday only there is a Student/Military discount: two-day pass for $10 with valid student or military ID.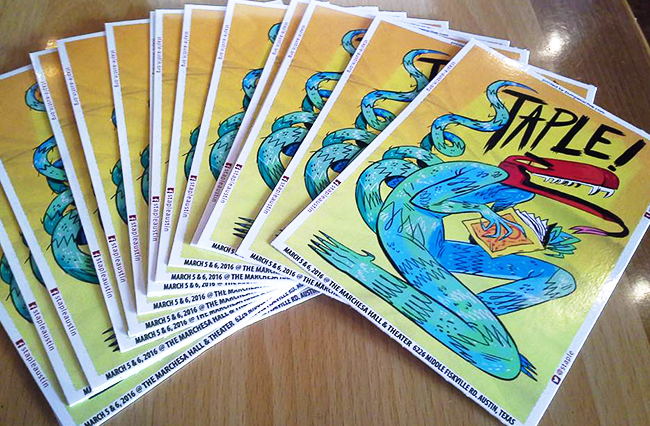 Join Us!
Can't wait to see you there!
Okay so when I saw this Kickstarter flash through my feed on Twitter, I jumped at it. Some of my favorite platformers are on this list and even more that I've been interested in. I love indie games and I love when awesome artists draw fanart of their favorite works, so this is a kickstarter I can get behind.
So what is it? Simply put, "It is an illustration anthology dedicated to some of the best indie games released or upcoming. It is our way to celebrate both cool art and cool indie games." Thirty talented artists have come together to draw illustrations celebrating their favorite indie games which means thirty (and maybe more) gorgeous pieces of art in one game-packed zine. What do they plan to all include in this project? Here's their list:
+20-90 artists/games more (depending on stretch goals)
An extra page per piece with some info on the game and the artist
A small interview to some of the gamedevs
Extra pages where the current artists will be able of including a smaller illustration to present another extra game they love
A slew of talented artists that have jumped on board with this project. You can find work from Emmett Rose, Bonnie Mier, Dani Kruse, Guille Garcia, and so many more. You can find the whole list and more updates about the project on their Kickstarter page. There are some pretty awesome reward tiers and some enticing stretch goals (and they've already reached one of them)!
Currently, The Indie G Zine is attempting to add a few more games to their line-up, including Cave Story and the incredibly popular (and beautiful) Undertale game. If anyone knows folks from either of those games and can give them a nudge towards this kickstarter, that would be awesome. I know I would love to see both of those games included in the zine. The man behind the Indie G Zine kickstarter is Julián Quijano and he is super passionate about this project and bringing it to the fans. I can't wait to see the zine in production.
Go pledge now to The Indie G Zine Kickstarter now and follow them on twitter and tumblr for more updates. Supporting this project doesn't just mean support for the zine – the zine itself will be promoting and marketing some pretty awesome artists AND the games they love. So what are you waiting for? Let's go!
First month of a new year and first convention of the new year! I have always wanted to go to PAX Prime so I was super excited when they created PAX South last year. I was unable to go due to illness so I was stoked that this year we got three day passes. It was a ton of fun. Honestly I didn't play nearly as many games as I wanted to, but we caught some really awesome sessions, met up with a bunch of friends, and saw some really talented cosplay. It was extra special too since my 15 year old sister got to come with and it was only the second convention we've ever done together. We all had a blast!
Here are some of the highlights from our PAX South adventure.