I had mentioned before about the accountability swap I'm doing with my friend Meg. We were both absolutely swamped the last couple of weeks so it ended up falling off the radar, but we're getting back at it. Our last topic was the Avengers (Meg's choice) so I decided to do Lady Loki. Here's the work in progress of it.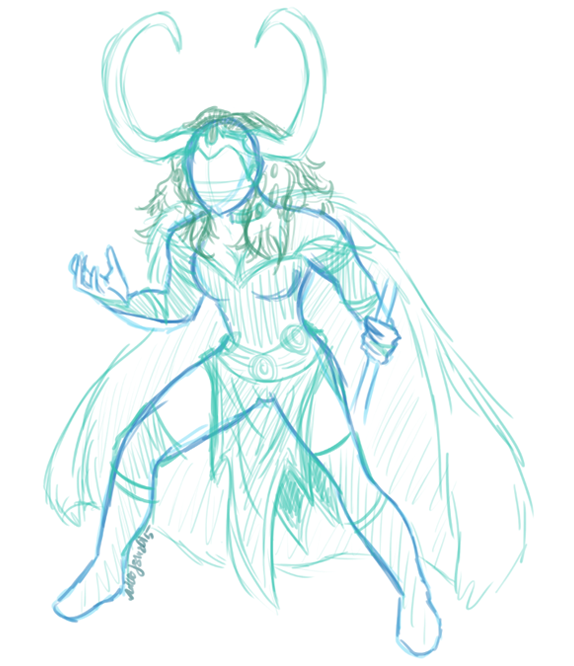 One of the things I'm hoping to get out of this project is to work on my anatomy skills and attempt to draw some more dynamic poses and more realistic styles. I felt like doing a super hero was the perfect time to try to push myself on both of these things. I'm somewhat happy with it, though I'm definitely still struggling with anatomy. I used a comic book reference of Loki himself for the pose. One thing this is teaching me though is that I'd really like to start going to figure drawing classes again. I think it'd be a good reminder on how the human body works and moves.
What this overall exercise is also teaching me is that I really need to start actively making more time to draw. It's so easy to let work overrun everything and then just climb into bed and ignore the rest of the day. I have a full-time 9-5 job and a part-time job on weekends (and some evenings), so drawing tends to be the first thing that falls to the wayside. But when I make myself actually sit down and be creative and force myself to set aside time, I always feel better. There's a certain zen to drawing that I don't feel with anything else and so I'm thankful that this accountability is there.
Anyway. If you have some anatomy advice or anything else, feel free to comment and let me know! ♥